Leather
Debossed or embossed leather for a rugged, vintage look. Debossed areas will appear slightly darker than the rest of the patch.
Laser printing available for both PU leather and genuine leather.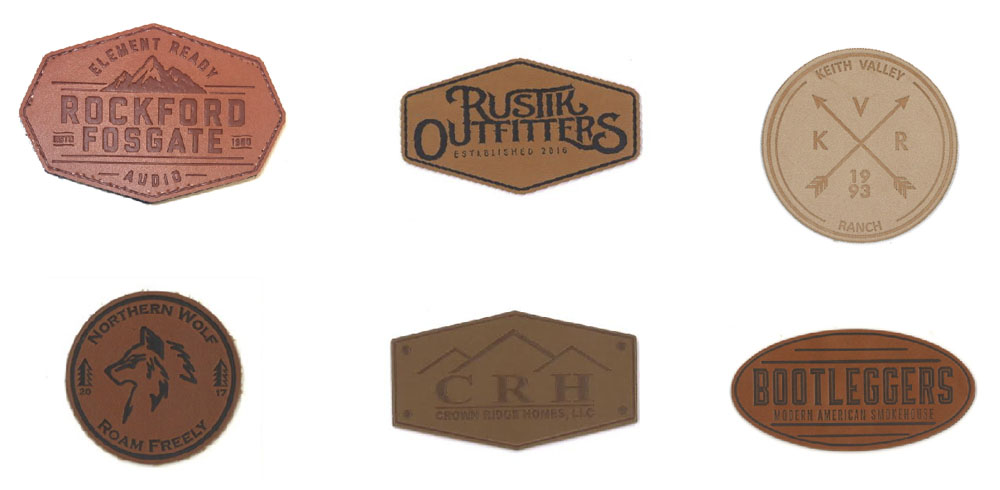 Size
50
100
200
300
500
Heat
Seal
Hook &
Loop
2"

$9.62

$4.90

$3.96

$3.48

$2.82

$0.56

$1.06

2.5"

$10.10

$5.16

$4.26

$3.82

$3.12

$0.56

$1.16

3"

$10.80

$5.50

$4.54

$4.06

$3.30

$0.56

$1.40

3.5"

$11.24

$5.74

$4.80

$4.36

$3.56

$0.56

$1.56
8A Other sizes and quantity are available, please submit your designs for an accurate quotation.
Standard
PU Leather, embossed or debossed logo, cut border, plain backing
Genuine leather is available upon request.
Production Time
4 weeks after proof approval, 3-4 weeks for pre-production sample.
Rush service is available upon request
Size
Add length + width and divide by 2. For a circle use the diameter
Leather Color Chart
Printed color on leather is available upon request.
Sew-line
A thin debossed line can be added inside the perimeter of the patch for easier sewing at no additional cost.
Backing
Heat Seal, Plastic, stick on, hook & loop backing is available for an additional cost.
Pre-production Sample fee
$82 (G) for size up to 2.5"
$94 (G) for size 2.5" to 3.5"
80% of the sample fee will be refunded when the order is placed without any changes.
$20(G) will be applied for every size or design change.
Email picture proof fee
20% of pre-production sample
Artwork Proof Fee
$13(G) per design
Sample match
We need a physical sample for closely matching, $25(X) shipping fee is applied for sending to our factory in China
Cancellation
A sample fee will be charged for proofs not approved within 1 months or for orders that are cancelled or the process changed.
Shipping
FOB Chino, CA 91710